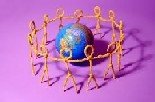 If you are involved in a charity or a public service effort, or are part of a non-profit organization, All Hit WUHU-107 would love to help you raise those funds, raise public awareness, or promote your charity to make southern Kentucky a better place to live.  Simply fax your press release to 843-0454, or complete the "What's Happening" report on this website.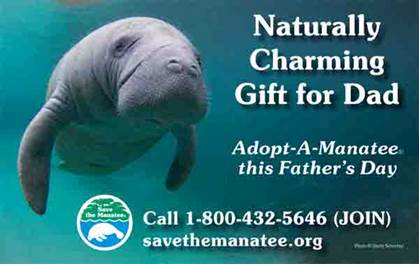 Father's Day shopping?  The search is over!  Adopt a manatee from Save the Manatee Club.  For $25 the Club will send Dad an adoption certificate, photo, and known history of a real living manatee.  Or for $35, a Club T-shirt will also be included with the adoption package.  Funds support the Club's long-term goals to safeguard manatees and their aquatic habitat.  So, choose a manatee for Dad!  There's Gator, Rocket, Doc and many more!   Adopting one helps them all.  Call 1-800-432-JOIN or visit www.savethemanatee.org.
More than one million wild animals are killed each year, illegally. Poaching is just one of the risks animals face at our hands. The Humane Society's Wildlife Land Trust has a deep concern to help preserve those open spaces for our wildlife friends so they can live and thrive like they used to. Destruction of their habitats threaten their very existence. The best way to protect wildlife is to protect the land where they live. The Humane Society Wildlife Land Trust works with private landowners to protect wildlife, to preserve natural habitats and establishing permanent sanctuaries. To learn more or to work with The Humane Society Wildlife Land Trust call 800-729-SAVE, that's 800-729-S-A-V-E. Or visit www.WildlifeLandTrust.org.
Alec Baldwin Urges Americans to 'Eat to Fight Alzheimer's'
Baldwin Teams up with Physicians Committee in Public Service Announcement to Promote Brain-Boosting, Disease-Fighting Foods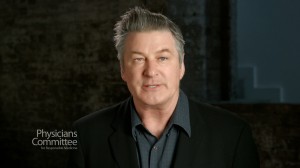 Alec Baldwin is teaming up with the Physicians Committee—a nonprofit of 12,000 doctors—in a new public service announcement about reducing the risk of Alzheimer's disease with a diet rich in plant-based foods. Fresh off the set of Still Alice, the story of a woman succumbing to Alzheimer's, Baldwin wants you to know that what you eat can make a difference in preserving cognitive function later in life.   "Five million Americans are living with Alzheimer's disease, but the right foods may help you prevent it," says Baldwin—a longtime Physicians Committee supporter—in the video. "Vegetables, fruits, whole grains, and beans can help keep your brain strong and memory sharp. Let's eat right to fight Alzheimer's."  Baldwin also explains that our dietary choices affect those around us: Nearly "16 million husbands, wives, children, and friends are caregivers" for people with Alzheimer's. In the Academy Award-winning Still Alice, Baldwin's character's wife, played by Julianne Moore, is diagnosed with early-onset Alzheimer's. The movie shows the toll Alzheimer's takes on the patient, her husband, their children—played by Kate Bosworth, Kristen Stewart, and Hunter Parrish—and the community. A diet that centers around plant-based foods can reduce Alzheimer's risk by 35 percent, according to a recent study in Alzheimer's & Dementia: The Journal of the Alzheimer's Association. The research favors a diet with daily servings of leafy greens, vegetables, whole grains, nuts, and berries and limited exposure to or avoidance of red meat, butter, margarine, cheese, pastries, and fast or fried food.  The findings are similar to Dietary and Lifestyle Guidelines to Reduce the Risk of Alzheimer's Disease, published last May in the Neurobiology of Aging by Neal Barnard, M.D., president of the Physicians Committee and an adjunct associate professor of medicine at the George Washington University School of Medicine and Health Sciences.  "Alec Baldwin's recommendation for a plant-based diet to reduce the risk of Alzheimer's comes at a critical time," says Dr. Barnard. "A lifestyle intervention could prevent more than a third of Alzheimer's disease, which will triple to 13.8 million cases over the next three decades."  More than 1 million New Yorkers, statewide, spend 1.1 billion hours caring for loved ones with Alzheimer's or another form of dementia each year. The cost for the unpaid care is $14 billion.  Watch the 15- and 30-second "Eat to Fight Alzheimer's" videos and download resources to help reduce the risk of Alzheimer's disease at www.EatToFightAlzheimers.org.
Hearing loss is a growing health issue, with an estimated 1.1 billion young people worldwide at risk of developing the condition.  Prevention is crucial to reducing this trend: Limit exposure to loud noises and use ear protection when attending sporting events or concerts. Curb the use of earbud headphones for music or movies to no more than 60 minutes at a time and at 60 percent of the device's maximum volume. And talk to your primary care physician or other health professional to get a hearing test, and obtain treatment if necessary. Common signs of hearing loss include turning up the volume on the TV or radio to levels that others find too loud, having trouble following conversations in noisy environments, or struggling to hear while on the telephone. Hearing loss can cause social isolation and make it more difficult for families to connect.  The condition has been linked to lower earnings, depression, dementia and higher risk of falls. For more information about this condition, go to www.hearingloss.org.  This has been a public service message from the Hearing Loss Association of America, hi HealthInnovations and All Hit WUHU 107!
According to the Centers for Disease Control and Prevention, there are now more than 1.1 million people living with HIV/AIDS in the U.S., and nearly 200,000 of them don't know they're infected.  This sad fact highlights an awareness gap and the need for education.  With regular testing, early detection and increasingly effective treatments, people can manage HIV and live long productive lives.  While proper treatment has become much more available and effective, only 25 percent of Americans with HIV are receiving treatment.  Without knowledge of their HIV status, they are unable to take advantage of treatment that will allow them to stay healthy and reduce the risk of transmitting the infection to their partners. Getting an HIV test is the only way to know if you have HIV.  You can ask your healthcare provider for an HIV test, or you can get an HIV test at places like community health clinics.  Go to actagainstaids.org to type in your zip code to get a list of HIV testing sites near you, including those offering free HIV tests.  A public service message from UnitedHealthcare, actagainstaids.org and WUHU 107.
Did you know there are medical grants available for families struggling with child health-related expenses?  The UnitedHealthcare Children's Foundation is currently seeking grant applications from families in need of financial assistance to help pay for their child's health care treatments, services or equipment not covered, or not fully covered, by their commercial health insurance plan. Grants are often used to help pay for medical services and equipment such as physical, occupational and speech therapy, counseling services, surgeries, prescriptions, wheelchairs, orthotics, eyeglasses and hearing aids. Parents and legal guardians may apply for grants of up to $5,000 at www.uhccf.org, that's www.uhccf.org. To be eligible for grants, children must be 16 years of age or younger.  Families must meet economic guidelines, reside in the United States and have a commercial health insurance plan. Families do not need to have insurance through UnitedHealthcare to be eligible. Last year, the UnitedHealthcare Children's Foundation awarded medical grants to more than 2,000 children. This has been a public service message from the UnitedHealthcare Children's Foundation.
Stress: it can make your heart race, your head pound, and your stomach churn. While a little stress can be a good thing – and even help you perform under pressure – too much stress can be bad for your health, causing headaches, stomach pain, trouble sleeping and even a weakened immune system. In the United States, it's estimated that up to 90 per cent of visits to primary care doctors are due to stress-related health problems. It's hard to avoid stress altogether, but there are steps you can take to manage it. During National Stress Awareness Month in April, visit optum-dot-com slash stress for more information about how to prevent stress from getting the better of you, including Stress First Aid techniques you can do "in-the-moment" when you're feeling stressed and stress-prevention techniques to help change the way you approach and think about certain situations. To learn more visit optum.com/stress.

BGMU meetings are held the 2nd Monday of each month in the Commission Chamber at City Hall, 1001 College Street, Bowling Green, Kentucky.  The BGMU meetings are broadcast live on Government Access Channel 4.  Meetings are replayed on the following day at 10:00 a.m. and 2:00 p.m. as well as the following Wednesday at 11:00 a.m.
On Tuesday, June 14th  at 6:30 pm at the Bob Kirby Library,  Dr. Curt Fields will speak on General Ulysses S. Grant, and his role in Kentucky during the Civil War. Dr. Fields will portray Grant in full dress uniform. He is well known for his portrayal of General Grant at many events.  Tickets are free, and available at the libraries. 
The next night, Wednesday June 15th at 6:00pm will be Diner with the Generals in the main hall of Riverview at Hobson Grove. Tickets are $50 each and are limited to 25 people.
Share and Enjoy