---

Walmart, Azzip Pizza, Bowling Green Blind Company, Carpet Place, and Steak and Shake have joined us in support of our Bowling Green and Warren County teachers and we need your help! To prevent teachers from spending their own money for their student's supplies, we invite you to donate supplies to be distributed to our local schools by WUHU, Beaver, and Willie radio stations!
Pick up and return Totes for Teachers to Customer Service desk at Walmart on Walton Avenue only*
150 Walton Avenue in Bowling Green, KY (Just off Campbell Lane, behind Greenwood Mall)
Deadline is August 31st!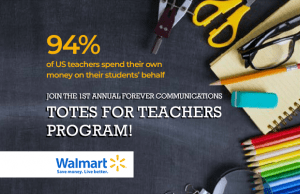 Suggested items:
• Wipes
• 1 inch binders
• Sheet protectors
• Scissors
• Cardstock
• Expo Markers (any color)
• Highlighters
• Lead Pencils
• Colored Pencils
• Kleenex
---
Share and Enjoy