"Dunlap RV Travel Trailer Giveaway"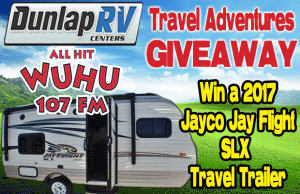 Escape to the great outdoors on your own terms.  Wherever you go, go in comfort and style thanks to Dunlap RV Centers.
When you hear us announce a live travel travel trailer event on All Hit WUHU 107, hurry over to sign up to win a 2017 Jayco Travel Trailer from Dunlap RV Centers.  At every event, we will draw the names of two qualifiers for the travel trailer.
Also, Listen every weekday for your  chance to call in and instantly qualify.

You love the great outdoors… you love the fun of a road trip with your own travel trailer… Dunlap RV wants to give you what you love!  Listen… sign up… and win!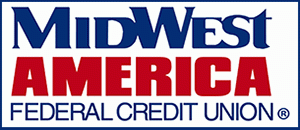 Join Kirk Patrick and RUHU for some fun prize winning this Friday, July 28th at Midwest America Federal Credit Union in Scottsville, KY.  We'll lots of prizes to give away including Beech Bend Park and Splash Lagoon Passes, Marquee Highlands Cinema Passes and More!  Plus, register to win an official invitation to our Travel Adventures Party at Dunlap RV on September 9th.  Find out all the money saving benefits of being a Credit Union Member-house and car loans and more at excepttionally low rates.
Share and Enjoy