ALL HIT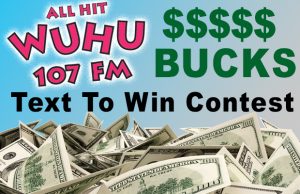 WUHU 107—-BUCKS!  WIN YOUR SHARE OF ALMOST $5,000 IN CASH!  JUST ONE TEXT COULD WIN YOU ONE HUNDRED SEVEN DOLLARS! 
LISTEN EACH WEEKDAY AT ABOUT 7:10 TO THE BG MORNING SHOW WITH  KIRK AND BROOKE TO FIND OUT THE TIME WINDOW FOR THAT DAYS' WUHU 107 BUCKS CASH KEYWORD WILL BE ANNOUNCED!.  AS WE GET CLOSER AND CLOSER- WE'LL LET YOU KNOW.  THEN…HEAR THE KEYWORD AND TEXT IT TO US AT 88474. YOU'LL HAVE JUST TEN MINUTES TO ENTER !!  THEN…WUHU 107 DOES AN IMMEDIATE RANDOM DRAWING AND HANDS OUT THE CASH!  
AND   BE  SURE YOU ARE A MEMBER OF THE ALL HIT WUHU 107 TEXT CLUB. TO JOIN- TEXT KEYWORD WUHU TO 88474.  ONE CLUB MEMBER …ON NOVEMBER 2ND…WILL WIN $1,071!!!!
WUHU 107 BUCKS— HANDING OUT THE CASH THANK YOU'S FOR LISTENING AND HAVING FUN WITH US… FROM ALL HIT WUHU 107..THE BEST MIX! MUST BE 18 OR OLDER!
CLICK HERE FOR COMPLETE CONTEST RULES
Share and Enjoy